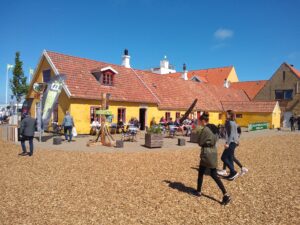 Hirtshals Kro has since 1769 held many of the town's large and small events.
Hirtshals Kro consists of Hirtshals Kros pub, which is open almost all year round, and Hirtshals Kros restaurant, which is open from Easter to winter. There can be approx. 60 people indoors and up to 100 people outdoors on our terrace
It was at Hirtshals Kro that the famous local artist Lars Nielsen spent most of his time between the two world wars. Here he took every opportunity to caricature and draw many of the local celebrities.
Hirtshals Kro has a large collection of these caricatures and drawings, which you are welcome to come and see. While at it, you could also taste our local bjesk, which for many years has been made from the local herbs that are in the area.
Hotel Hirtshals' panoramic restaurant – Located on the 1st floor with a unique view of Hirtshals Harbor and the North Sea.
The restaurant can accommodate parties of up to 30 people.